Supporting UK schools with direct finance for equipment, technology and vehicles

Value✓
Transparency✓
Compliance✓
Support✓
Welcome
"Welcome to the Schools Finance Direct website. Our services have been specifically designed to help those organising resources in the education sector achieve their objectives. We are passionate about helping schools provide an enriched learning environment for their pupils. I sincerely hope you will find many of the sections in this website of interest and please do register for news and updates."
Adrian Langford,
Chief Executive, Schools Finance Direct

Introduction
Schools Finance Direct was established in response to the Government's Department for Education (DfE) guidance for schools publications and overwhelming demand from those organising finance for schools for practical real-world solutions. Plus, throughout our extensive and ongoing research, we recognised:
The education sector deserves a better deal
Those in schools responsible for organising resources deserve a better deal
People trying to make a difference need the right resources to get the job done
As a direct funder to the education sector our objective is to meet and exceed the nationwide requirement for those organising finance for schools to have direct access to finance facilities that provide value, transparency, compliance and support with levels of service specifically designed to smooth the whole process.
With many finance companies, brokers, consultants and advisors serving the education sector, as a direct lender, the Schools Finance Direct service offering has been developed specifically to remove obstacles and unnecessary costs. We aim to help you guarantee your school is achieving efficiencies and getting value for money.
We are a full member of The Finance & Leasing Association (FLA). The Business Finance Code sets out the high standards that FLA members will meet when providing asset finance to businesses and the public sector. This includes trading fairly and responsibly with customers.
Working with you and your advisors
Our Account Managers work directly with head teachers, bursars, school governors, finance managers and departmental heads to help you achieve your objectives. Similarly, if your school has appointed financial advisors or accountants, we are very happy to work in conjunction with your external consultants in a completely open and transparent manner, subject to your full authorisation.
Your school's direct access to finance
Schools Finance Direct is a principal lender so by contracting directly with us your school gets direct access to finance without any built in broker or introducer fees.
What can be financed?
Facilities are available for a wide range of items, including:
ICT and AV equipment
Minibuses, vans and commercial vehicles
Touch screens
Active floors and walls
Temporary buildings
Furniture
Catering equipment
Electric vehicles and tow tractors
Gym equipment
Cleaning equipment appliances
Grounds maintenance equipment
Playground and outdoor equipment
LED Lighting
Robotics
CCTV and security equipment
Science equipment
Other items
The SFD Spotlight Pages feature a selection of items from our supplier partners together with pricing guides.

We also operate the SFD 1:1 Computing Plan.
Our Principles
All our activities are conducted with honesty and integrity
The aim is for excellence in everything we do
We conduct our activities with due skill and care
Activities are organised responsibly with appropriate risk management systems
Appropriate financial resources are maintained at all times
We treat our customers fairly
Never under any circumstances whatsoever do we attempt to hard-sell or pressurise our customers
We communicate information in ways that are clear
Consistent and sustainable service levels are delivered to everyone with whom we engage
We strive to provide an environment for our employees where they can reach their potential
Key Features
Crystal clear written finance quotes
Simple, easy to understand finance agreements
Fixed payments for simple budgeting
Payment plans tailored to your school's requirements
Single primary contact for your school
Lifetime Agreement Management (Including Asset Register administration)
100% clear end of contract options
Schools Support Helpline on 0800 4880 529 or 01420 88000
Email assistance via support@schoolsfinancedirect.co.uk
Value for Money
No Arrangement Fees
Low Documentation Fees
No Annual Service Fees (or quarterly, or six monthly)
Low Option to Purchase Fees on Hire Purchase agreements
Absolutely no hidden fees whatsoever
Types of Finance
For Independent Schools, Colleges and Universities
Operating Lease
Fixed rentals, fixed term, advantageous end of contract options
Finance Lease
Fixed rentals, fixed term, advantageous end of contract options including low secondary period rentals
Hire Purchase
Fixed payments, fixed term, ultimate ownership
For State (LEA Funded) Schools, Academies and Academy Trusts
Operating Lease
Fixed rentals, fixed term, advantageous end of contract options


(Subject to the emergence of possible changes in Government Legislation we plan to offer additional financial products to State (LEA Funded) Schools, Academies and Academy Trusts, please contact us for further information.)
Top Tips?
Visit our Resource Library for Information PDFs, Videos and Podcasts.
Webinars
Visit our Webinars information page for details of upcoming webinars.
---
To arrange a 'virtual' meeting with an SFD Account Manager call 0800 4880 529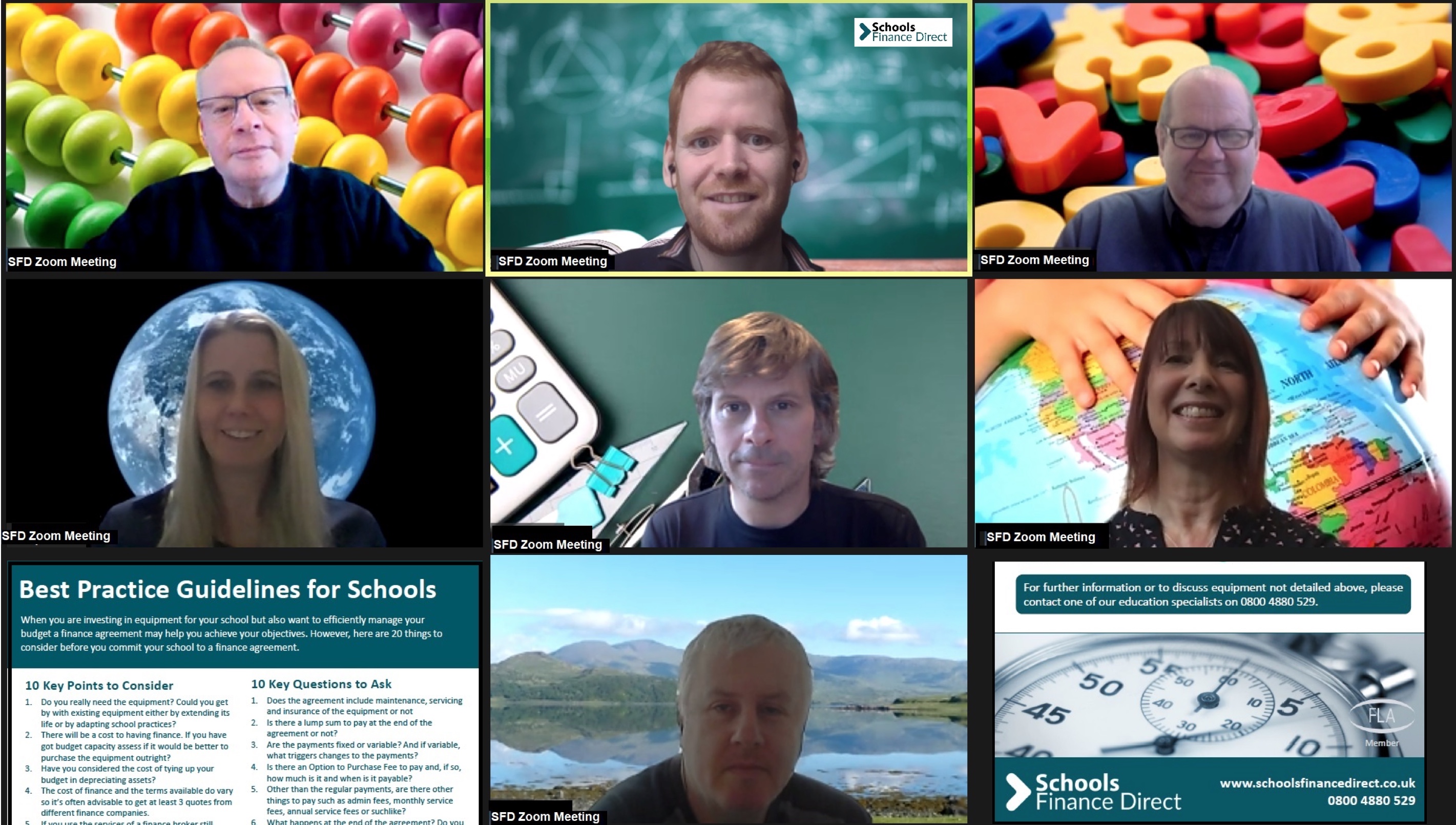 ---
Next steps?
For an initial discussion or to discuss specific projects, call 0800 4880 529 or 01420 88000 or email support@schoolsfinancedirect.co.uk

Alternatively, you can make an enquiry online.

We are very happy to visit your school to discuss your requirements. We also have Zoom Meeting Room facilities for virtual discussions.
Contact Information
Schools Finance Direct
Rivermore House
3 Summerlea Court
Herriard
Basingstoke RG25 2PN

T. 0800 4880 529
T. 01420 88000
E. info@schoolsfinancedirect.co.uk

E. accounts@schoolsfinancedirect.co.uk
E. enquiries@schoolsfinancedirect.co.uk
E. support@schoolsfinancedirect.co.uk